TV aerial installation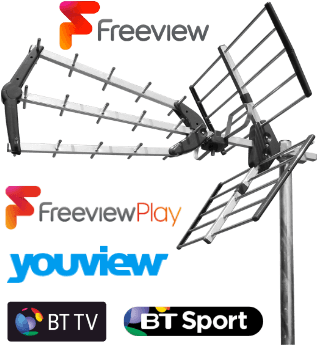 For Freeview, YouView & BT TV
TV Aerial Installations, upgrades and repairs from CableCom North West.
Free Quote, No Call Out, Same Day Service – Get in touch today!
A TV Aerial allows you to watch channels via Freeview and enjoy subscription-free viewing. No monthly fees or annual renewals, just a one-off supply and aerial installation service from us.
Watching TV from an aerial is the most popular and cost-effective way of accessing the Free to Air TV channels. Of course, to give you the best possible reception, you need the right aerial that can provide you sufficient signal in your area to provide trouble free picture quality on your TV.
We provide a fast and affordable TV aerial installation service, giving you access to all the Freeview channels.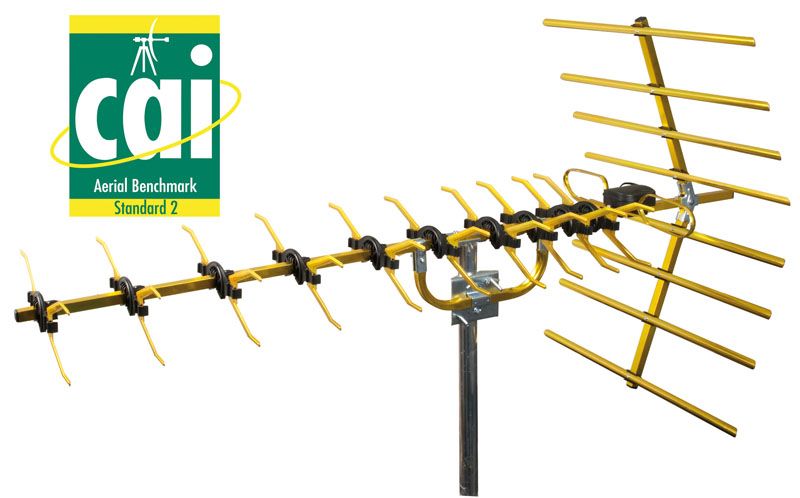 Your New TV Aerial Installation at a competitive price.
As trusted aerial engineers of over 30 years, we understand a new TV aerial is not an everyday purchase, however, it is an investment in a product that needs to perform efficiently for years to come. A new aerial is not something that you should need to pay over the odds for by any means, and this is why we are very competitive.
We can install aerials to almost any type of property, with local installers based in Blackpool, Poulton Le Fylde, Cleveleys and St. Annes. For a one-off charge, our experts can erect a new aerial which we guarantee will offer you 100% reliable TV viewing from Freeview, BT Vision and any terrestrial TV service on the market.
We can also help you to get the most from your HD TV. Did you know, unless you have the correct equipment, your HDTV will only display standard definition. Let us help you with your HDTV setup.
Aerial Installation Options
For a simple and no fuss service, we offer several TV aerial options. Our Value, Standard & Premium aerial packages each offer the same level of product longevity, with our premium installation providing an increased signal to your television in poor reception situations.
The aerial option we recommend will be based entirely on factors in your environment. For example, trees or other obstructions around your home can block a signal from reaching you and will have a bearing on the optimum aerial choice for you to receive crystal clear reception. Our installer will talk through all our packages in full and answer any questions you may have before carrying out any work on your property.
Below are some brief details of our latest offerings:
Why Choose CableCom North West for your TV Aerial Installation?
With over 30 years' experience in repairing and installing satellite dishes to households across the UK, we are your trusted team when it comes to value for money satellite dish repair. We use our specialist knowledge to diagnose and resolve signal issues as quickly as possible. We have local experts working in all areas of the UK, covering both rural and urban areas.
There are even more reasons to choose our satellite dish repair service:
You can be sure of our experience – With over 30 years industry experience, we have built up a trusted team of expert technicians who work nationwide on thousands of properties each year.
Free surveys and quotations – All work that we carry out is subject to a free survey, to help diagnose the issues first, after which you will be provided with a free quotation for the work we intend to carry out on your satellite dish.
We work safely and efficiently – Each and every one of our technicians is trained to the highest possible standard in both their trade, following fast and effective processes to complete work quickly, as well as being taught to use the latest health and safety equipment.
We use brand new parts – We make use of brand new parts when repairing satellite dishes, any parts that we supply and fit will be issued in mint condition so you can be assured of their longevity and high grade performance.
60-day "no quibble" guarantee – As standard we offer an exclusive 60-day guarantee on all of our satellite dish repairs. In the unlikely circumstance that you are at all dissatisfied with our service then we will always look to make things right first. If a speedy resolution cannot be reached, we will then issue you with a 100% refund on our service.
Aerial Repaired Instead Of Replaced
Some customers think they need a new aerial. If aerial is not structurally damaged, there are instances where we can repair aerial to be fully functional again, saving money on a new installation. In these instances ourTV aerial repair service is of benefit. See our TV Aerial Repair page for more information
TV Aerial Repairs with a same day service
Our aerial repair service starts with a free quote and in most cases we can repair your aerial on the same day.
CableCom North West – First Class Aerial Repairs at Affordable Prices
If your aerial is faulty or damaged, then you need an engineer with the expertise to source, diagnose and resolve any issues you may be experiencing quickly and efficiently. At CableCom, we are committed to providing the very best aerial repair service at a competitive price.
Contact us for your Free Estimate - For Aerial/Satellite Service & Repair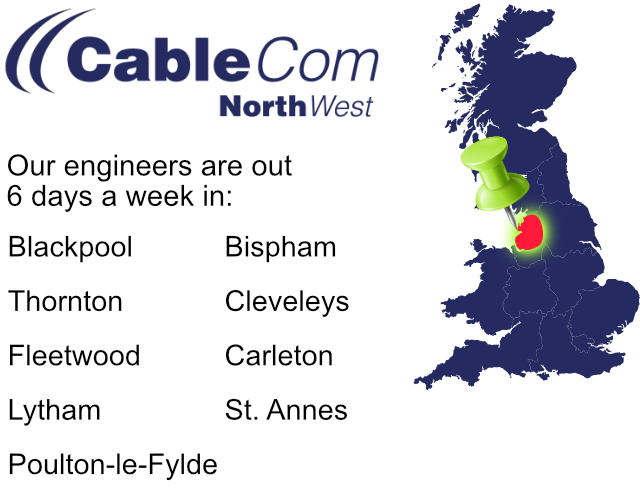 Extra TV Points
Add a TV to another room in your property – all you need is an extra TV point. If you would like to add a TV to another room in your home, we are able to add an additional TV socket linking directly to your existing TV aerial. An ideal way to add a TV to your kitchen, bedroom or perhaps in your children's room. Ask us about extra TV points, we offer a discount on this service if carried out during your aerial repair or installation visit.
Contact us today
To arrange a free home visit and quotation call or email a member of our friendly customer service team today and we will arrange for a local engineer to visit at a date and time that is convenient to you. Home visits are free of charge and are included as part of the complimentary service we provide before carrying out any repairs. Call us on 01253 809077 or email us